As a photographer in Alice Springs, I'm always looking for new and exciting ways to capture the beauty of the Australian outback. So, when the opportunity arose to take my Royal Enfield motorbike on a 200km ride along the Tanami Road to Tilmouth Well, which sits next to Lake Lewis, I couldn't resist!
The road was parallel but north of the West MacDonnel National Park and rangers, giving me an amazing view of the ranges. It was like being in the middle of a wild west movie, minus the cowboy hat and spurs, of course. But as I rode along the desert plains and bush scrub, I realized that this adventure was going to be more than just a photo opportunity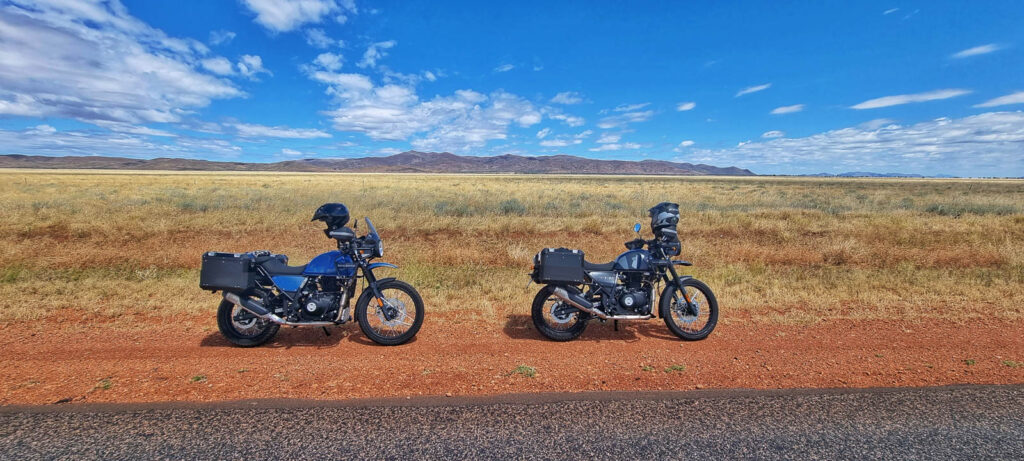 I came across some unexpected sights, like camels running in the scrub along the highway, and road trains with three to four trailers that made navigating the one-lane bitumen roads a bit of a challenge. To avoid these beasts, I had to pull over and let them pass, which gave me a chance to stretch my legs and take in the breathtaking scenery. All in all, it was a ride that made me feel alive, but also made me grateful for the comfort of my camera gear!
About 3/4 of the way to Tilmouth Well, I came across a roadside rest stop that was a little rough around the edges. The concrete table under the shelter was covered with what looked like mud and bird droppings – a real feast for the eyes, let me tell you! But my surprise didn't end there. When I looked up, I saw a massive amount of bird nests, all made out of very small balls of mud, right above the table. It was like a mud village had sprung up overnight! I couldn't help but wonder what the birds were thinking as they built their homes above a rest stop covered in bird droppings. But hey, when nature calls, you gotta answer, right?
Despite the challenges of the road, the sunset was absolutely spectacular. Clouds dotted the plains, with the sun sneaking through to paint the sky a beautiful gold against the dark blue backdrop. And let's not forget about the wildlife – on my ride back home, I saw an amazing amount of bird life, including a massive wedge-tailed eagle that was standing on what was left of a kangaroo that was part of roadkill. As I rode closer, I kept thinking it was going to take off any second but it didn't until I was almost alongside it, at which point it took flight to the safe haven of some trees about 20 meters away.
Now, I know what you're thinking – "Brendan, what does a motorbike ride have to do with photography?" Well, let me tell you, sometimes you have to go off the beaten path to capture the perfect shot. And sometimes, that means hopping on a motorbike and riding into the heart of the Australian outback.
Not only did this ride give me a new perspective on the beauty of the outback, but it also served as a reminder to always be open to new experiences and opportunities. Life is short, so why not make the most of it and go on a motorbike ride through the desert?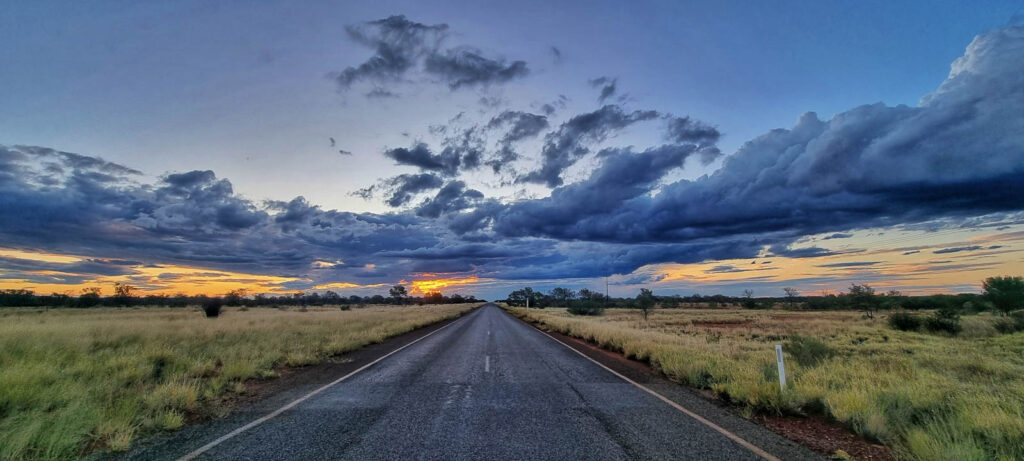 In conclusion, my Royal Enfield adventure through the heart of the Australian outback was one for the books. From the unexpected sights of camels and road trains to the stunning sunset over the plains, it was a ride filled with excitement and beauty. And who knows, maybe my next photography session will be inspired by this ride through the heart of the Australian outback.
Book Your Session Today and Let's Create Beautiful Memories Together!
So, if you're looking for a photographer who isn't afraid to go off the beaten path to capture the perfect shot, look no further than Brendan Maunder Photography. Contact me today to book your session and let's create beautiful memories together!